The 2nd International Conference on C4I Solutions 2017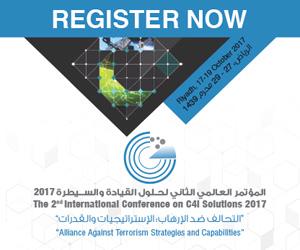 Event location
King Saud University - Saudi Arabia
Command, Control, Communications, Computers, Intelligence (C4I) and cybersecurity systems are all critical for warfare. These systems combine a variety of technologies including: command, control, communications, computers, intelligence, sensors, Internet of Things (IoT), remote control and autonomous systems that decision-makers rely upon to supply and process accurate analytical data, as well as collect and display information in the most timely, context-appropriate and format-suitable manner, using smart technologies and state-of-the-art sensors. This is not to mention their vital role in connected battlespace management and in monitoring and protecting critical infrastructures.
C4I and cybersecurity are mainly useful for complex and integrated military and security apparatuses that bring together and manage a wide array of integrated ground, maritime, air and cyber forces, in addition to general security, coast guards, civil defense, and crisis management organizations. Furthermore, these systems enable senior commanders to plan, manage, and follow through operations at the toughest of times and under the harshest of circumstances such as wars, disasters and emergencies.
The First Conference was held during April 26-28, 2016, with the theme "Building Local Capabilities," under the patronage of HRH Deputy Crown Prince, Second Deputy Prime Minister, and Minister of Defense. More than 2,000 experts and professionals attended the conference that ended with a set of recommendations among which it was decided to continue organizing the conference on an annual basis under relevant themes.
In light of what the region and the world are currently experiencing in terms of amplified terrorist actions that have led to the formation of international and regional alliances against terrorism and since such alliances typically work together through advanced and sophisticated Command and Control Centers, with complex and interoperable systems, and under advanced operational requirements, it was decided that the 2nd International Conference on C4I solutions will be held under the theme of "Alliance again Terrorism… Capabilities and Strategies" on October 17th till 19th in Riyadh, under the patronage of H.R.H Prince Mohammad Bin Salman Bin Abdulaziz Al Saud, Crown Prince, Minister of Defense.
The conference is set to shed light on the role of command and control centers in combating conventional and unconventional terrorism, and their alliances relying on advanced integration systems for complex operations and command, control, communications, cyber security (C4I). In addition, the conference will address all aspects of C4I in military as well as civilian arenas.
The conference will bring together more than 700 participants including senior military officers from Saudi Armed Forces as well as from other armed forces members of the International Alliance against Terrorism. In addition, many participants from global and regional C4I solutions' and systems' developers and providers, IT and telecom companies, energy, other industries as well as from academic and research institutions will take part in this remarkable conference. Moreover, the conference will host on the side an exhibition of the latest technologies offered by global companies in the areas of command, control, communications and cyber security.